Tri-State Deck Cleaning Services
Deck Cleaning and Sealing, Concrete patio and driveway cleaning and sealing, Exotic Hardwood deck and Log Cabin restoration, Siding cleaning, Fence cleaning and staining Free Estimates Competitive pricing
Contact Us
Professional Deck Cleaning Company in NKY, & Cincinnati OH.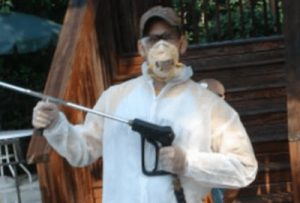 Restore your outdoor deck with Tri-State Deck Cleaning and Sealing Professionals. As a leading Deck Cleaning Company in Cincinnati, and NKY, we pride ourselves in providing top notch deck cleaning and staining/sealing services. Our clients come to us for a trustworthy, professional and stress-free deck sealing and cleaning service. Free Estimates and competitive pricing. What Makes Our Deck Cleaning & Staining Process Different?
Tri-State Deck Cleaning has over 20 years experience in providing high quality deck cleaning and pressure washing services in Cincinnati and Northern Kentucky.
We pride ourselves in paying attention to detail and strive to provide superior craftsmanship. Whether we are dealing with pressure treated pine or exotic hardwood decks, we have successfully completed a wide range of deck cleaning and staining projects for both commercial and residential customers.
We also provide concrete cleaning, log cabin restoration, fence cleaning, and more.
At Tri-State Deck Cleaning, we work with our customers to select the best type of stain to use. We enjoy helping with selecting color options. We have built a lasting business on creating long term customers.
We understand that your outdoor deck is the perfect place to hold family gatherings, special events, or to just relax with a cold beverage. That's why we provide you with an exceptional deck cleaning service fully customized to meet the needs of your desired results. We aim to exceed our customer's expectations!
What Makes Our Deck Cleaning & Staining Process Different?
• We use superior stains and sealants and use quality cleaning equipment
• We use time tested and superior application processes and methods
• We care about punctuality and attention to detail
• Our team is highly experienced, attentive, and friendly
• We have a long list of positive reviews and great customer ratings
• We have extensive knowledge on how to maintain and care for exotic hardwood decks
We also offer advice, tips, and instructions on how to properly maintain and care for the deck once we have completed the project.
As the owner of the company, I quote every job. I also provide my personal cell phone number listed here on the website to all of my customers!
Request A Quote: Request a free quote for deck cleaning and deck staining services for your residential or commercial property today. We provide deck staining and deck cleaning services in the Greater Cincinnati OH Northern Kentucky area.